Why Should You Prefer FGI Sectional Door?
Sectional doors, also known as industrial doors, have a wide range of uses. It is appreciated by its users with its high quality and performance and is frequently preferred. We provide sales, assembly and after sales services for our sectional doors throughout Turkey and the MENA region without any problems. It is among the biggest advantages of sectional doors that they can be produced in desired sizes and colors with features suitable for the needs. Our sectional doors, for which we provide long warranty periods, are in a special position in the sector together with our maintenance and service services.
Reasons for Choosing Sectional Doors
Our sectional doors have a different design than many door systems. Its ease of use and installation creates great advantages for companies, employees and customers. Thanks to its design supported by a special spring system and automatic command applications, it can be opened practically upwards. In this context, it saves space at all the areas where it is applied. Since our sectional door systems have an ergonomic design, they can be used safely and smoothly in all areas. Thanks to its stylish and aesthetic design, it can be integrated with the building in all areas where it is used. Our modern door systems, produced in international standards, also offer companies a cost advantage with their attractive prices.
Advantages of Sectional Doors
One of the most important advantages of our sectional doors is that they are high-tech doors. The sectional door, which is produced at the level of expectations, also has the feature of protecting the sound and heat directly within the scope of its advantages. Apart from this, it ensures that the area is safe from adverse weather conditions and other external factors. For this reason, our sectional doors, which are also preferred in cold storages, provide protection of products from external factors such as dust and pollen, which occur depending on climatic conditions. One of the most important advantages of our sectional doors is that they are ergonomic sectional door types, they are easily transportable and installable. Installation and dismantling of our sectional doors can be done within minutes. This allows businesses to be advantageous in terms of time.
Areas of Use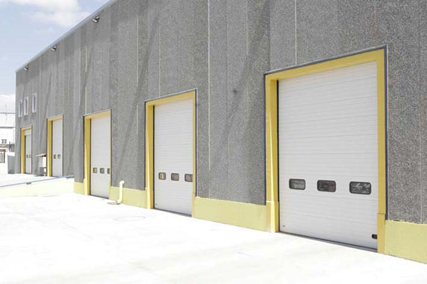 Our sectional doors can be used in many industries. There are no restrictions on the use areas of these doors. They can be used in many different areas in order to control the temperature, control the interior areas, prevent the negative effects of climatic conditions, maximize security opportunities, and provide ease of use. Sectional doors are mostly preferred in the warehouse section of companies, private properties, garage sections, residential areas, parking areas, production and distribution areas, car galleries, fair and show areas, shopping centers and offices.
What You Need to Know About Sectional Doors
Our sectional doors are long-lasting door systems if used with care. Careful use and receiving FGİ periodic maintenance service ensure that these doors maintain their quality for years. Many different factors, such as controlling the entrances and exits, heat and sound insulation, carrying out the transportation operations in a practical way and providing the service with maximum performance, play a role in the door preferences.
In this way, it can provide quality, guaranteed, reliable, automatic and manual service. Sectional door systems, unlike ordinary door systems, follow technological developments perfectly. Working in integration with other door and loading systems, our sectional doors are also environmentally friendly, as the raw materials and paints used in their production comply with the standards.
Where to Buy Sectional Doors?
You can examine our sectional door types on the corporate website of our company, and you can contact our headquarters or regional sales representatives.

We can contact you about our sectional door models in the most suitable color, material and size for your needs and share our project proposal.

You can also benefit from our sectional door systems that offer efficiency, aesthetics and safety together, and experience the comfort of FGİ sectional doors in your building.